Hi, I'm Andy Baio. I make things on the internet, and occasionally off of it. You can read more about me, and deface my biography, on Wikipedia. Some of my projects are below.
Waxy.org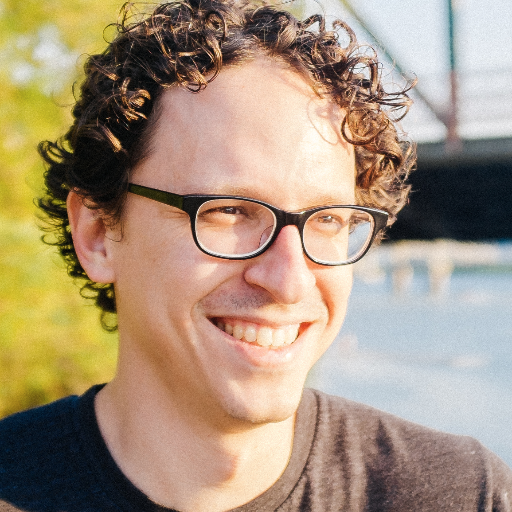 Launched in 2002, Waxy.org is my personal sandbox — a place for my writing, research, and explorations of the web. Frequent topics include internet culture, copyright and fair use, online community, independent and experimental media, and the intersection of art and technology.
In the process, I've occasionally found myself in the news. I found (and named) the Star Wars Kid, coined the "supercut" genre of videos, was the first to put the Danger Mouse's Grey Album on the web (and first to be cease-and-desisted for it), and tracked the piracy of Oscars screeners for over a decade.
As a result of my blog, I've fought off legal threats from The Beatles, Queen, United Comics, Bill Cosby, and, perhaps most famously, settled out of court for the pixel-art cover of Kind of Bloop, my Kickstarter-funded 8-bit tribute to Miles Davis's Kind of Blue.
For Waxy's 10th birthday in 2012, I rounded up my favorite posts from the first ten years. For its 20th birthday in 2022, I highlighted my favorite posts from its second decade.
Skittish
In 2021, I launched Skittish, a playful virtual space for online events where you could run around a colorful browser-based world as goofy animals and talk to other people with your actual voice. I posted updates about it on the official blog, and it received nice early coverage from The Verge, TechCrunch, and Wired. Sadly, I shuttered it at the end of 2022 as a result of declining demand for virtual events.
XOXO
XOXO is an experimental festival and community of artists and creators who live and work independently online, focused on the anxieties and struggles that come with it. Funded on Kickstarter in 2012, XOXO has grown to over 1,200 speakers, performers, and attendees each year, spanning every segment of art and creativity.
The Verge called it "the internet's best festival" and "the most interesting weekend in tech." The Guardian attributed its popularity to, at least in part, "its gentleness, its emotive undertone and thoughtful curation, but also its commitment to supporting individual artists over businesses and corporates."
This recap video is a pretty good idea of what it's all about.
In 2016, we opened the Outpost, an enormous shared workspace for independent artists and hackers, each paying only what they could reasonably afford. It grew to encompass a community podcasting studio in a 1967 Airstream, a continuous slate of community events, and an incredible roster of 85 members. After running for nearly a year, we closed our doors on December 31, 2016, a victim of rising rent costs — but the Outpost lives on with the Stream PDX project and a new member-run workspace.
Each year of XOXO is nine months of anxiety culminating in the most exhausting and rewarding four days of my life. In 2017, Andy McMillan and I decided to take a break from the festival to regroup and work on our own projects.
XOXO returned in 2018 with a bang — double the size, over 20% of passes distributed for free to economically-disadvantaged folks, and a strong thematic thread of balancing art and online activism. In an unannounced surprise performance, Lizzo played the closing party mere weeks before she exploded in popularity and became one of the country's biggest pop stars.
In 2019, we decided to return to our previous venue and bring it back down to a more manageable size. It was the most relaxed and most fun I've had in seven years running the event. Here's a taste of what that looked like.
We were planning to return in 2020 for the eighth year, but a global pandemic got in the way. It's on indefinite hiatus. Until then, every one of the talk videos are available on our site, browsable by year and subject. Take a look at the Featured tag for some of our favorites.
Upcoming.org
In 2003, I launched Upcoming.org, a community for sharing and discovering interesting events around you, based on people you follow. Launched before Facebook or Flickr, Upcoming was among the first communities to use a social network for anything beyond meeting people.
After my son was born in 2004, I invited two friends, Gordon Luk and Leonard Lin, to come on board as co-founders. After a flurry of development, Upcoming exploded in popularity and was acquired by Yahoo in 2005. I left the company in 2007 after two years of constant growth. After I left, it fell into disrepair and Yahoo eventually shut it down in 2013.
I bought the domain back from Yahoo, and launched a Kickstarter project to restore the archives and rebuild Upcoming from scratch with a modernized stack. In April 2017, Upcoming reopened its doors, and with over 7 million historical events restored to their original URLs, Upcoming is the first major website to be restored by its original owner using Archive Team's preserved data.
Belong.io
A weird little side project, Belong.io is a link aggregator that extracts links posted by over 2,000 Twitter users, normalizes them, and orders them based on a number of factors. In a naive attempt to surface projects over blog posts, it shows simpler URLs over complex ones.
For me, it's remarkably good at surfacing interesting links quickly, and I use it every single day. Fans have built Twitter bots on top of it, but it's largely unknown. It's the project of mine I love the most that nobody knows about.
Playfic
I love Inform 7, the boutique natural-language programming language for writing interactive fiction. You write stories and games in a language that resembles paragraphs of English prose, but is deceptively complex.
So I made Playfic, a community for writing and sharing interactive fiction games and sketches, and just otherwise playing around with Inform 7 without downloading the IDE or sharing compiled games. It was the first, and still only, method of writing games entirely in the browser.
It's been used to teach game development in schools around the world, and people have used it to write interactive fanfic based on Sherlock, Doctor Who, and My Little Pony. Try out the featured games, and click "View game source" to instantly see how each game was made.
Kickstarter
One of the most rewarding things I've ever worked on, my involvement with Kickstarter reshaped the direction of the rest of my career. When I first met cofounders Perry Chen, Charles Adler, and Yancey Strickler in 2008, they had an incredible idea, but were struggling to get it built.
As an advisor to the team, I helped them decide on a stack, hire the tech team, and get the site off the ground. Oh, and I suggested renaming it from "Kickstartr" to "Kickstarter."
After launch, I brought on new project creators, recruited new employees, and generally evangelized the benefits of maintaining your creative and financial independence. My first Kickstarter project, Kind of Bloop, launched two weeks after Kickstarter itself. Soon after, I came on board full-time as their first CTO, as the site continued to explode in popularity. I eventually moved back into an advisory role, where I've remained ever since.
Kickstarter is the best. You should use it.
Talks
Sometimes, I talk about stuff in public. Here are my three favorites. If you want me to talk at your thing, get in touch.
Other Stuff
I used to spend far too much time on Twitter, but Elon Musk fixed that. Now I'm active on Mastodon and you should follow me there. You can also follow Waxy.org on Twitter, or use ye' olde RSS with your feedreader of choice. You should definitely follow me on LinkedIn. I only use Facebook post-ironically.
I'm always looking for interesting story ideas and new, interesting projects to collaborate on. You can always message me on Mastodon at @[email protected], or email me at [email protected].
Thanks for reading. ✌