In June, data journalist David Yanofsky wrote a Quartz article about chart design, "It's OK not to start your y-axis at zero."
Last month, Vox followed with a more spirited defense of the practice, "Shut up about the y-axis. It shouldn't always start at zero."
Both publications noticed a common trend: any time they published a chart that truncated the y-axis, they'd get a bunch of angry emails and tweets claiming it's deceptive. But Vox and Quartz are absolutely right — context matters, and often, starting a chart at a zero axis can mislead too.
Vox's article led to some angry responses, like this one from writer Ramez Naam:
Seldom have I seen @voxdotcom get something so wrong. https://t.co/ErktflVKKH Truncating the Y-axis really is dishonest in most cases.

— Ramez Naam (@ramez) November 19, 2015
Today, the National Review tweeted this (now-deleted) incredibly misleading chart about climate change, inadvertently proving Quartz and Vox right.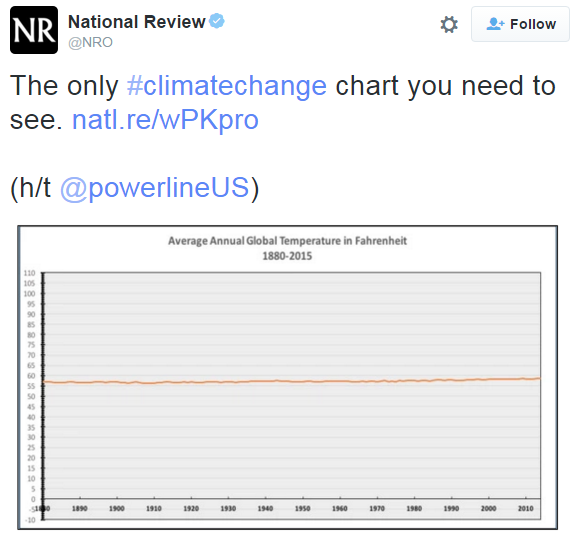 Twitter had a field day with it.
it's crazy how my height has barely changed at all my whole life pic.twitter.com/pqUyzr20NQ

— Seth D. Michaels (@sethdmichaels) December 14, 2015
@NRO @powerlineUS Why, I've barely changed! pic.twitter.com/lFsze2v8ES

— Jim Pettit (@jim_pettit) December 14, 2015
.@NRO @powerlineUS WOW!!!!! this chart shows gun violence isnt a issue either pic.twitter.com/TLGEjoHNmQ

— jomny sun (@jonnysun) December 14, 2015
The only #undocumentedimmigration chart you need to see. @NRO @powerlineUS #FunWithYAxes pic.twitter.com/3WJR4Ggd94

— Jeff Yang (@originalspin) December 14, 2015
Snark aside, here's one way to make the chart meaningful again.
.@NRO @powerlineUS @bradplumer I'm sure someone else has fixed this for you, but here you go. Great idea, thx — pic.twitter.com/VxgcGalcSa

— City Atlas (@cityatlas) December 14, 2015