In mid-December, I took an unannounced hiatus from Waxy for the first time, and largely stepped back from social media. It was a long, cold winter in Portland, but an absurdly productive period for me. That said, I hope to never do it again. I miss writing here!
The break was partly inspired by six weeks of internet malaise, a pervasive feeling of unease from obsessively spending time online in a post-Trump wave of political despair.
But it was also the competing forces from two factors: the death of one project and the rebirth of another.
The End of the Outpost
Last year, we opened the XOXO Outpost, our shared, pay-what-you-can workspace for independent artists that we'd opened at the beginning of the year. We'd grown to 85 members, a pretty absurdly great group of writers, videogame designers, illustrators, cartoonists, filmmakers, and creative coders.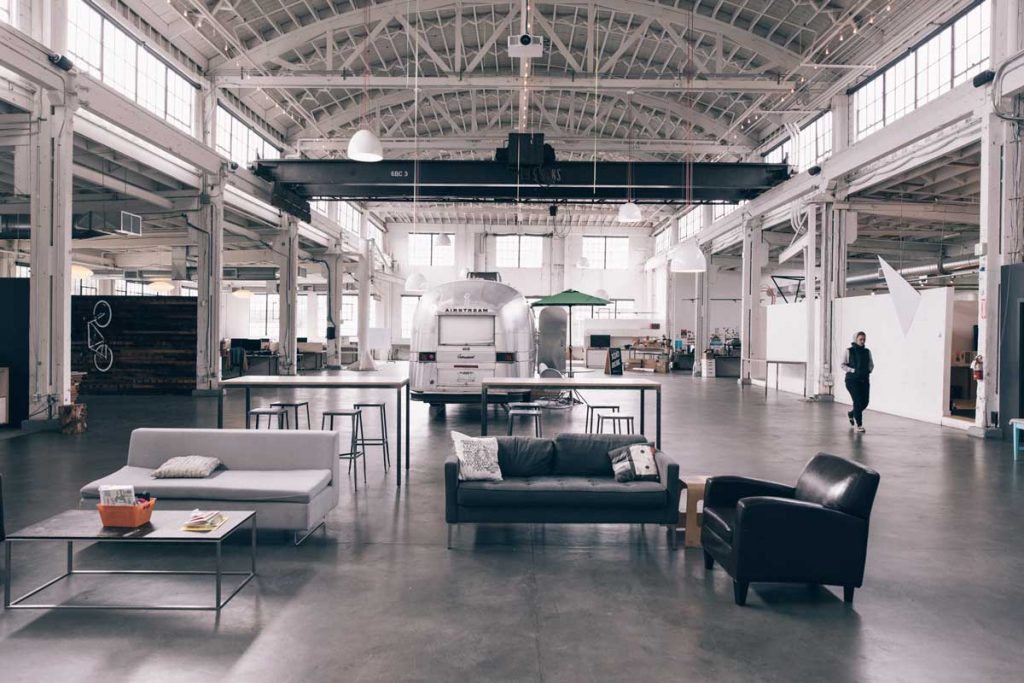 We ran dozens of events throughout the year, and bought a 1967 Airstream, retrofitted into a community podcast studio by a team of volunteers. Every Friday afternoon, we ran Show & Tell, where everyone shared what they were working on and the terrible stuff that came with it. It was a pretty great place to work, surrounded by talented indies that turned into quick friends.
Sadly, we weren't immune to Portland's rising costs, and our initial sublease was set to nearly double in 2017. We couldn't afford to sign a long-term lease, so we made the hard decision to close doors on December 31.
It was short-lived, but it was one of the best experiences of my life, and I don't regret it for a second. Last Friday, I went to the first Show & Tell from the Enthusiasm Collective, a group of ex-Outpost members who started their own space in SE Portland. And the Airstream lives on, thanks to the collective effort of the Stream PDX crew.
And I made a lot of new real friends, which is worth more than I can possibly tell you.
The Rebirth of Upcoming
As the Outpost closed, I quietly started a three-month sprint to get Upcoming.org back online.
Four years ago, in May 2013, Yahoo shuttered the event-sharing community I started in 2003 with 11 days' notice. A massive archiving effort by Archive Team preserved the majority of the events, venues, and user profiles. But the community was dead.
A year later, a friend at Yahoo reached out, offering to sell the domain back to me. No code and no data—just the domain. I jumped at it, and launched a Kickstarter project to see if it was worth bringing back Upcoming. 1,787 people thought so, pledging over $100k to make it happen.
When I first launched the project in May 2014, my original hope was to have a public beta in April 2015. It's now April 2017, two years later than I thought.
There were milestones: I launched the historical archive last June, bringing 7.6 million events back from the dead at their original URLs, and opened up a very rough beta to backers shortly after, but actually, you know, launching the new site has taken far longer than I originally expected.
So, what happened? Three main issues.
Competing projects. While developing Upcoming, I organized three XOXO festivals, while launching and managing the Outpost for all of 2016. Both projects grew to consume all my available time and creative energy.
Infrastructure changes. In the middle of development, I switched from one language, framework, database, and set of libraries to a completely new stack. (The new Upcoming was originally in Python, Tornado and RethinkDB, and is now Node, Express, and MySQL.)
Learning curve. I'm working in an environment and framework that's completely new to me, and that's taken some time to get used to. It's my first real experience with modern asynchronous JavaScript, and I'm still learning.
I couldn't do everything at once, and Upcoming suffered the most. So, starting in January, I quietly cleared my slate to focus exclusively on Upcoming. We'd already announced we were taking a break from the festival this year, the Outpost was over, and on top of it, I took a blogging break.
Last Thursday, Upcoming relaunched. It's still rough, and there's a long to-do list—many of them on the homepage sidebar. I'm already starting to hear stories of people using it, finding new things, and sharing them with friends.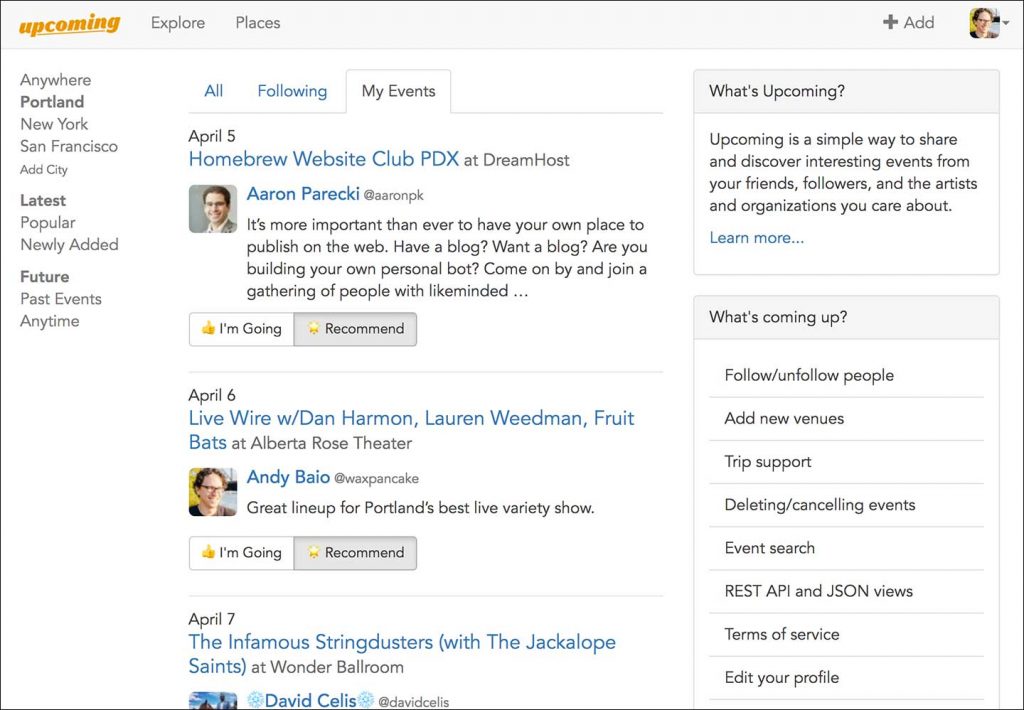 It just passed 3,500 members and 700 events. It's rough, but it's a start, and I'm excited and hopeful to see where it goes over the next few years.
The Spring
So the winter's over and spring is here, and we're all coping in our own ways.
I'm going to go back to doing what I've always done: writing incessantly about the things I care most about, and that make me happy, and evangelizing everything I love about the internet and the people and projects that make it interesting.
Thanks for sticking around.