Pardon the extremely-specific post, but I've found myself at the center of a bizarre case of mistaken identity and writing publicly about it seemed like the best option to stop it.
Someone with the email address '[email protected]' is emailing small independent online product manufacturers with an identical scam: they're a huge fan of their products, but cut themselves on the packaging while opening it, and want a refund and damages. Screenshots of two examples are below, minus the photo of a gross bloody finger.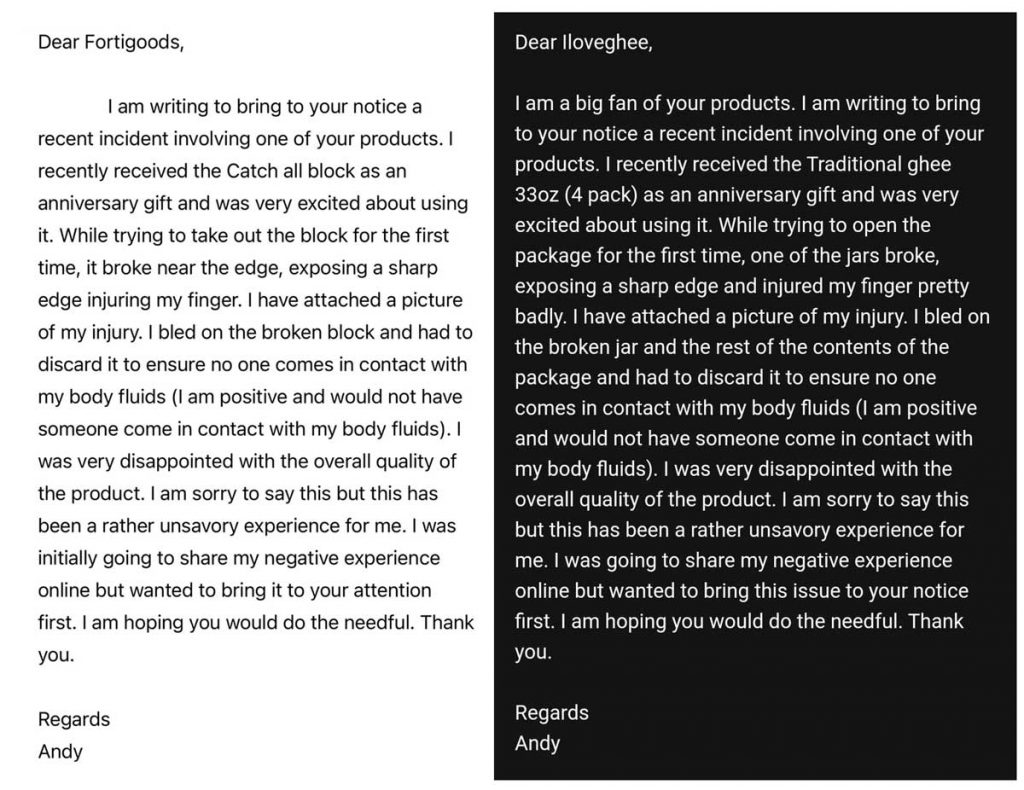 These companies are then contacting me via Twitter, Instagram, and email because they think that I'm the one that sent it. What gave them that impression? Well, take a look for yourself at the Google results when searching for that email address.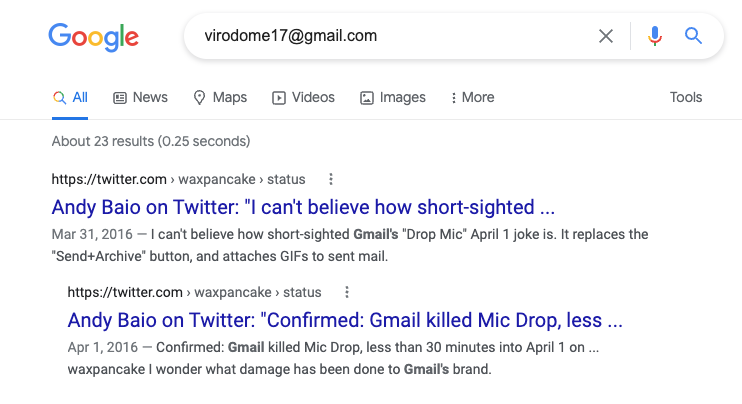 Despite the keyword "virodome17" not appearing anywhere on those pages, Google not only returns my 2016 tweets about Gmail's "mic drop" April Fool's joke, but also my LinkedIn page.
Combine this with the fact that the scammer signs his name "Andy," and you can see where anyone would get the wrong idea that I was the sender. Is the scammer even impersonating me? It's hard to say — "Andy" is a common name, and they're not using my last name or any other aspect of my identity. They also don't have control over what pages the Google algorithm returns, so it's plausible this is just a bizarre coincidence.
Regardless, Google is ultimately responsible in two ways:
The Google algorithm is irrelevantly returning my personal information for a completely unrelated search, leading to this identity mixup.
Despite multiple reports to Gmail of fraudulent activity over the last year, the [email protected] is still actively attempting to defraud others with a Gmail account. I received two separate companies contacting me about this issue in the last 24 hours alone.
My hope is that Google indexes this blog post and it starts showing prominently for anyone searching for the scammer's "[email protected]" address. But if you work on Gmail or Google Search, it'd be amazing if you could do something about it.
If you're a company that received this scam and found this page, please post a comment about your experience. I'd love to see more screenshots, and I'll post an update here if anything changes.
As a fun linguistics side note, I was curious about how both emails end with "do the needful," a turn-of-phrase I've never heard before. Digging into it, this expression is apparently popular in India but rarely used outside of it, meaning "do the right thing." The Guardian calls it "the granddaddy of all Indianisms," so I think I have a pretty good hunch where this scammer's from.
Update: Another company reached out to me on Twitter with the same experience, and I've confirmed privately they were using the same template scam. Multiple Google employees also contacted me privately to say they've escalated this search ranking issue, so I hope this will be resolved soon.
In the comments, yet another company the scammer contacted noted that the Gmail account is now bouncing, indicating Google's taken action against it.
And, as predicted, the #1 Google result for [email protected] searches is now this post.
I doubt this will put an end to the scam, but it'll hopefully end my role in it.