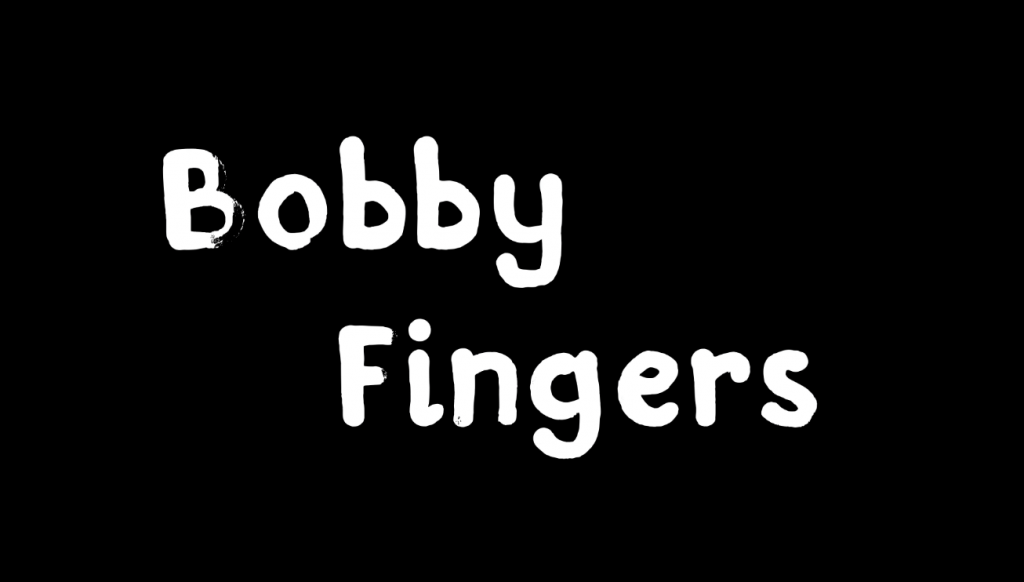 The pseudonymous Irishman known as "Bobby Fingers" has only made three videos since launching on YouTube last August, but each one is an unhinged masterpiece.
If you haven't seen them before, Bobby Fingers makes elaborate 1:9 scale dioramas depicting embarrassing moments in the lives of famous men, showing off his talents in model-making with a range of techniques from Bronze Age wax casting to modern 3D laser scanning.
But each video veers off wildly in different directions, interspersed with field trips, interviews, deadpan commentary, surrealist humor, and inevitably, a musical number.
Craft-wise, it's on par with the best modelmakers on YouTube, but shares more in common with viral video phenomenon like Don't Hug Me I'm Scared, Too Many Cooks, Nathan for You, and Unedited Footage of a Bear. Each one subverts the conventions of a familiar genre, whether it's educational children's shows, classic TV intros, business makeover reality shows, pharmaceutical ads, or in this case, crafty ASMR artisan YouTube channels.
Who Is Bobby Fingers?
Normally, it takes months or years for a YouTube creator to refine their style, but it seems like Bobby Fingers figured it out on day one.
His combined set of skills is so unusual — prosthetics, model-making, video production, musical comedy — and the channel showcases all of them so well. But I also sensed this was an experienced internet creator, someone who knew what worked well online.
I wanted to meet the full-size person behind these miniature worlds — so I did a little digging and tracked him down, and he kindly agreed to answer a few short questions.
His real name is, in fact, Bobby. But the surname is an alias, obviously, and he asked to stay pseudonymous. (With that in mind, comments identifying him by name or past projects will be removed.)
As is clear from the videos, Bobby is an experienced model maker and prosthetics artist with over 15 years of experience in film and television, a frequent collaborator with Odyssey Studios, the Limerick-based model-making studio featured in his videos. (You can see his past prosthetics work on Instagram.)
He also has deep experience in music and film, as a musician, producer, and video director. (And, yes, he's found viral success online before under another name.)
While he's collaborated with others in the past, Bobby Fingers is entirely a solo project, from conception to launch. "It's just me in the shed," he told me. "I sometimes tell my ideas to [brother] Billy Fingers and he makes sure they're not bad ideas. Like a dung filter. But other than that, it's just me."
The Dioramas
His choice of subjects is pretty unique, described by one commenter up as "filling the niche of scale models of iconic embarrassing moments in the lives of famous monsters."
All three dioramas capture, in excruciating detail, embarrassing or traumatic moments in the lives of controversial male entertainers with reputations tarnished by allegations and lawsuits:
Mel Gibson, with a well-documented history of hateful comments, is depicted during his 2006 DUI arrest in Malibu, during which he unleashed an antisemitic tirade at the cop who arrested him.
Steven Seagal, the subject of multiple lawsuits and allegations of sexual harassment and assault, is shown getting choked out by stuntman Gene LeBell and losing control of his bowels.
Michael Jackson, accused and sued for alleged child molestation before and after his death, is shown at the moment his hair caught on fire during a Pepsi commercial taping in 1982.
I asked Bobby why he chose the subjects he did.
"I like men who have failed us," he wrote. "The feeling they give is interesting. Like a dog who has chewed something we once enjoyed. But we move on."
Each of the finished dioramas are buried somewhere in the world, with coordinates hidden in the video itself. Viewers are encouraged to go find and dig them up, with early access given to his supporters on Patreon, an ingenious way of driving support and involving the community, who scramble to crowdsource information, reminiscent of ARGs, geocaching, and other collective internet projects.
"I have no sentimental attachment to things. So I'm happy to give them away," Bobby told me. "And I have always believed there are not enough treasure hunts in the world. So it just wrote itself really."
I also asked about his influences: the artists, people, and projects that inspired him, and specifically inspired the channel. I was expecting other internet creators or YouTubers, but he only cited sculptor Kris Kuksi, also known for his intricate sculpted dioramas, musician and actor Tom Waits, and, "anyone with an Irish accent that's so thick that I can't understand them."
---
Bobby Fingers seemed to burst onto the internet fully-formed, delivering a remarkably consistent quality for a fledgling YouTube channel, executed with uncanny skill and high production values.
I suspected the person behind the channel was a seasoned internet veteran, with a deep understanding of what works online and how to execute it, which is why I wanted to track him down in the first place.
But I understand why he asked not to be named or tied to his other projects. Working under a pseudonym can be freeing: unburdened by expectations from the past, a clean slate to build something new, on its own merits.
And it's just so early! Only three videos in, he's growing a new fan base that's financially supporting his work on Patreon — me among them — anxiously waiting to see what humiliating scene he'll take on next and the absurdist lengths he'll go to recreate it.
If you want to help Bobby Fingers achieve his dream of making videos full-time, or get early access to videos and the diorama's hidden locations, you can support his Patreon now. Otherwise, all his videos are on YouTube and you can subscribe to get notified when the next video is out. Allegedly!
Update: Six months after this post, Bobby Fingers put out a new video. Instead of a miniature diorama, he went bigger. Much bigger.