Over the past couple days, you might have seen this link making the rounds, a 3D virtual tour of this unusual house for sale in Louisville, Kentucky.
What starts as an ordinary cluttered living room quickly descends into a labyrinth of merchandise, with towers of DVDs, CDs, books, and miscellaneous goods filling every space.
It's easy to get lost as you find randomness around every corner: a bathroom with two toilets side-by-side, a carpeted urinal, a GameCube, a portrait of two brothers, a chonky cat, a human arm, and much more.
And then there's the bathtub.
(If you haven't, now's a good time to take the tour. If you have an Oculus headset, try it in VR.)
---
Some called it the best game of 2020, praising its environmental storytelling. Some starting doing speedruns to find the bathtub, in three different categories.
People starting sharing their findings in forums and multiple viral Twitter threads, some doing extended walkthroughs on YouTube and Twitch. Some fans made scavenger hunt checklists. One game developer ported it to VRChat.
But a larger question remained: what's the deal with this place? Whoever owned it, they were too organized to be hoarders. The home appeared to double as the office and warehouse for an internet reseller business, but who sells a house crammed floor-to-ceiling with retail goods?
Internet sleuths unearthed several news articles from 2014, outlining how police discovered thousands of stolen items being sold online during a raid at the address, the result of a four-year investigation resulting in criminal charges for four family members living and working at the house.
But it didn't add up. If they were convicted for organized crime, why was there still so much inventory in the house, with products released as recently as last year? Why is it still packed full while they're trying to sell it? And what's with the bathtub!?
---
I had questions, so I picked up the phone. The realtor put me in contact with Troy Curtis, the home's owner, and we chatted about the history of the unusual house, the nature of his business, and why he's moving on.
He addressed the criminal charges immediately. The terms of his settlement limited what he could say about the raid, but he told me he's nearing the end of a seven-year probation period for his organized crime charges under the RICO Act, as well as tax evasion.
As Curtis describes it, he never knew that he was selling stolen merchandise at all. He was running a legitimate family business buying discount goods from peddlers marts and flea markets and reselling them for profit on Amazon and eBay.
But one supplier he found through Craigslist repeatedly sold him bulk goods at clearance rates, claiming they were purchased legitimately, but were actually stolen from local Target and Kroger stores. He never knew they were stolen, but he also never dug deep, even though he was at times suspicious — something he clearly regrets now.
The authorities allowed him to continue his reseller business, as long as he kept receipts for everything he bought for resale. Amazon dropped him as a reseller in the process, but he continues his business legitimately on eBay, where he maintains an outstanding seller rating.
The House
The house was originally a church and a Christian school, with the small house first built in the 1950s, and two larger structures added in the 1970s.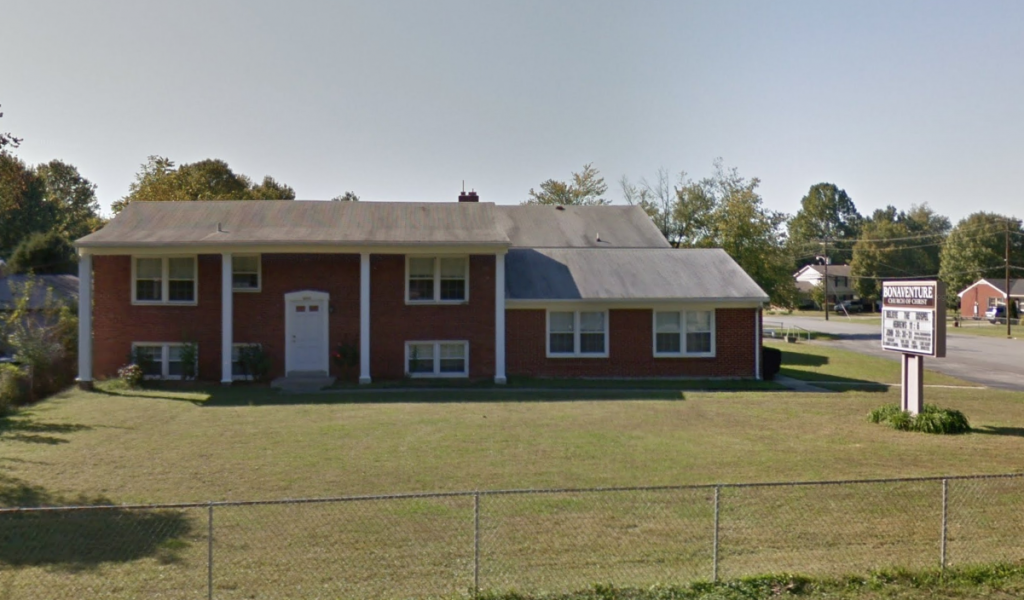 Its origins as a church explain the unusual bathtub. Curtis confirmed that it was once a baptistry, a large pool that originally opened out into the congregation for baptism viewings, before they walled it off and his nephew plumbed it as a shower.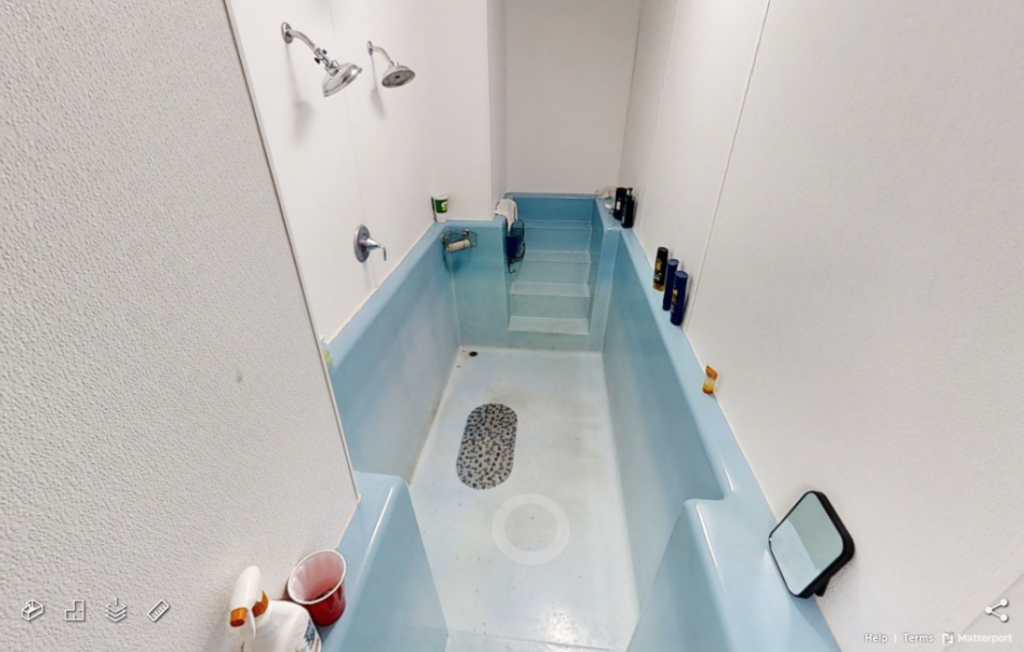 Curtis knows how strange his house is, but the sprawling layout and size for his business made it well worth the purchase price, which cost him more than twice what a normal house would cost.
Selling the House
Troy Curtis is selling his unusual home for a good reason: he needs more space. He's looking for a larger building that can handle his growing business and overflowing inventory.
Emptying out the house before selling simply wasn't an option, since he needs the funds from the sale to buy the larger property.
So, he let the realtor come in to shoot the virtual tour in its current packed state. The 3D photographer told Curtis that it typically takes him 30-40 minutes to shoot a house of that size, but going up and down every aisle, it took over three hours to capture it all.
The Response
Curtis was aware that people were talking about his house, but he wasn't clear how viral it was going online. He doesn't have a Twitter account, and his phone wasn't able to view the virtual tour, though some friends mentioned it to him on Facebook.
He seemed excited that people were finding it, and that it would bring more viewers to his listing, but then two strange things happened unrelated to our conversation:
The link to the 3D walkthrough was removed from the listing.
When loading the walkthrough directly, you can't get to the bathtub anymore.
I quickly called him back, and he was puzzled that it was gone. He never asked for them to remove it, and certainly never told them to change the walkthrough.
He called his broker on the other line, and we quickly learned why they blocked it off: Girls Gone Wild.
The room right before the bathtub is filled with shelves of Girls Gone Wild DVDs, and the DVD covers are clearly visible. The brokerage agent felt it was inappropriate, so removed the links and blocked off that room, making it impossible to get to the bathtub.
Troy Curtis is hoping the brokerage company changes it back.
He was really hoping to unload some of those Girls Gone Wild DVDs as souvenirs to people who won the game.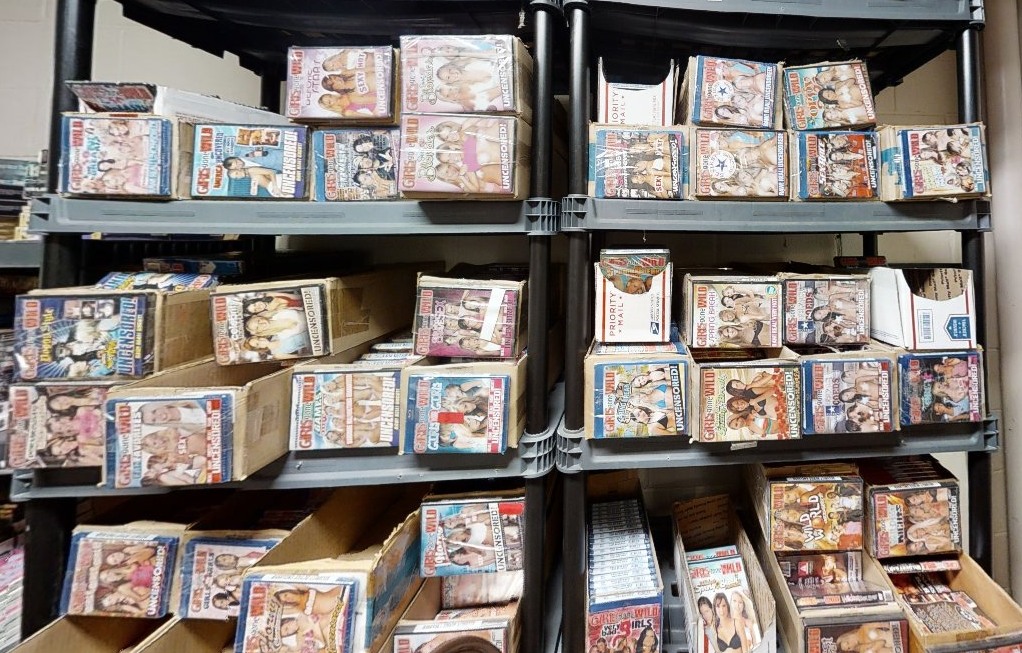 ---
Updates
October 28 — This post got linked to by the AV Club, Kotaku, Motherboard, Digg, Input, Kottke.org, BoingBoing, and the New York Times. So that's nice!
Grace Hayba, a reporter for the local Fox affiliate in Louisville, visited the house to interview Troy Curtis and get a real-world tour of the house, plus the first known footage of Loco, the chonky cat. If you want to buy the house with everything in it, Curtis will sell it for an additional $250,000. (Loco not included.)
The VRChat port is complete, and a bunch of furries conducted a virtual open house. Hilarity ensued.
November 12 — I'm not sure when this happened, but the original uncensored tour is back online, complete with bathtub and adult DVDs.