For nearly two decades, I've tracked the illicit distribution of Oscar-nominated films online to learn how the film industry's new and innovative ways of thwarting pirates inevitably fail.
The end result is this spreadsheet, now documenting 611 Oscar nominees from the last 19 years, with metadata for every aspect of their online journey from handheld camcorder recordings in the theater to 4K Blu-Ray rips, and everything in between.
I used to do analysis every year, but after a five-year break, I thought it was worth coming back to revisit this incredibly strange year.
The pandemic touched every aspect of our lives and the film industry was no exception. As theaters closed nationwide, theatrical releases were delayed, forcing some studios to release their films as rentals, while others partnered with streaming services like Disney+, Hulu, and Netflix for exclusive streaming rights.
With theaters closed, a common source of low-quality camcorder leaks dried up, and the floodgates opened to a new one: theatrical releases in our homes on release day.
This year, the pandemic spawned two trends that shattered all records since I started tracking this data in 2003, seemingly in conflict with one another:
Fewer screeners leaked online than ever, with only 9% of screeners leaking compared to 32% the previous year.
Nominated films leaked online faster than ever, in a median 7 days between first release to leak, compared to 73 days the previous year.
At first glance, it seems like the MPAA finally beat the pirates at the screener game. The blue line in the chart below shows that a record low of 9% of this year's nominees had Oscar screeners leaked online, continuing a downward trend.
But the red line tells a different story: that fully 97% of nominees, all but one film, have already leaked online in a high-quality format.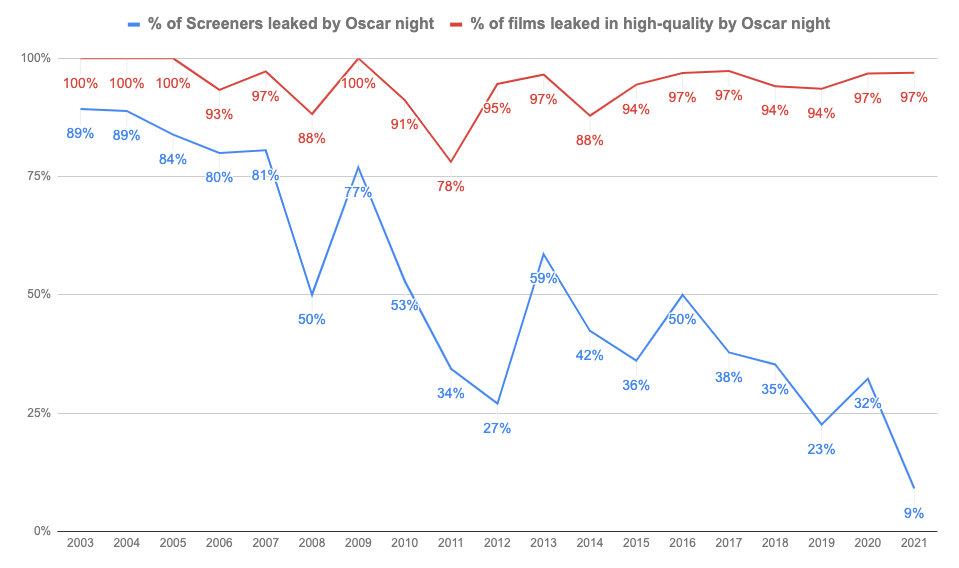 So what's going on here? Let's take a look at the data to understand the unique impact of the Covid-19 pandemic on how movies were released and leaked online.
Death of the Screener
When I first started tracking this data, DVD screeners were highly desirable because they were an opportunity to leak a high-quality version of the film months before its home video release, often while it was still in theaters.
Five years ago, I wrote about how screener desirability was changing as pirates were increasingly getting access to higher-quality 720p/1080p versions of films than Academy voters, who were stuck with 480p DVDs. In 2015, I wrote that "a staggering 44% of this year's crop of nominees leaked as a high-quality rip from some source outside of traditional screeners or retail releases — the highest percentage since I started tracking films in 2003."
For the second year in a row, most screeners were available digitally. Instead of just Best Picture nominees this year, virtually every nominated film was available for streaming by Oscar voters this year. But as far as I can tell, only three of those easier-to-access digital screeners leaked online. Why?
This year, the vanishing window between theatrical and streaming release dates made screeners completely meaningless. Why would anyone risk waiting to pirate an Academy screener when they could get the exact same quality sooner from Netflix, Hulu, Amazon Prime Video, or a streaming rental service?
The key chart is below, showing how the median number of days between the U.S. theatrical release date to its first high-quality rip, typically from a streaming site, cratered in 2020.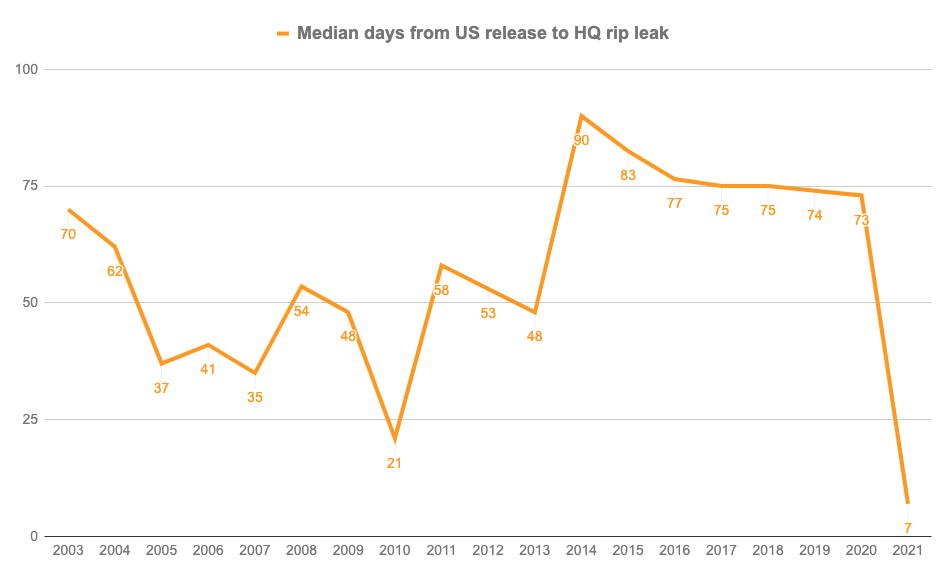 The theatrical window stayed remarkably consistent for the last five years at around 75 days. In 2020, it was seven days — a mere week from theatrical release to an HD stream rip, simply because virtually every movie was released online.
So, that's basically it. With every theater closed, most movies first released online and on streaming services, making them instantly available to pirates before screeners were even distributed to voters, making screeners moot.
The big question: what will happen when the pandemic recedes and theaters reopen? Will studios push for once again staggering release dates between theatrical and streaming debuts? Is the 90-day window gone for good? Will the leaked screener make a comeback?
Let's find out together in 2022. Stay tuned! 🏴‍☠️