If you've ever looked at the replies on any newsworthy amateur video posted to Twitter, you'll see an inevitable chorus of news organizations and broadcast journalists in the replies, usually asking two questions:
Did you shoot this video?
Can we use it on all our platforms, affiliates, etc with credit?
That gave me an idea, which I posted to Twitter.
Within two days, a talented developer named Corey Johnson made it real by launching Bbbreaking News.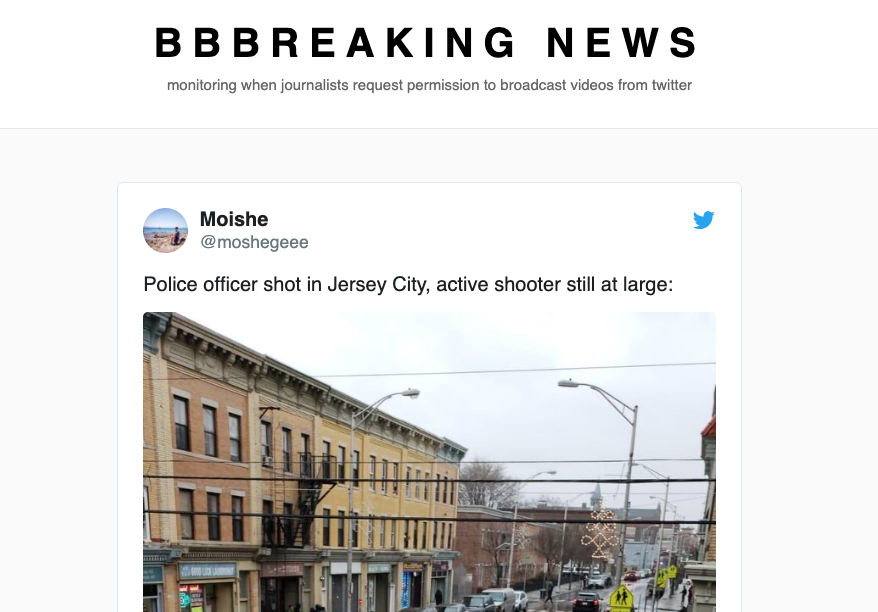 I've returned regularly since Corey launched it and, as expected, it's a powerful way of tracking a particular type of breaking news: visual stories with footage captured by normal people at the right place and right time.
Much of it is of interest only to local news channels: traffic accidents, subway mishaps, a wild animal on the loose, the occasional building fire.
But frequently, Bbbreaking News shows the impact of gun violence and climate change: a near-constant stream of active shooter scenarios, interspersed with massive brush fires, catastrophic flooding, and extreme weather events.
It's a fascinating way to see the stories that broadcast media is currently tracking and viewing their sources before they can even report on it, captured by the people stuck in the middle.
I recommend checking it out. Thanks to Corey for running with the idea and saving me the effort of building it myself!